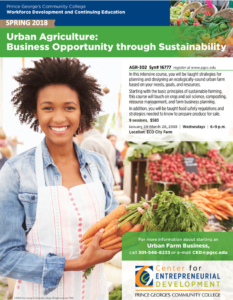 AGR-302 Intensive Introduction to Urban Commercial Agriculture
In this intensive course, you will be taught strategies for planning and designing an ecologically-sound urban farm, based on your needs, goals, and resources. Starting with the basic principles of sustainable farming, this course will touch on crop and soil science, composting, resource management and farm business planning. Also, you will be taught food safety regulations and strategies needed to know to prepare produce for sale.
Schedule: 9 sessions from January 24th – March 28th on Wednesdays, 6-9 p.m (No class March 14th)
Price: $583 (includes a $466 lab fee, does not include $20 registration fee)
Class Code: AGR-302
Learn how to register HERE.
Grow Urban Farming in 2018
Help ECO City Farms cultivate a more food secure and healthier Prince George's County in 2018! Make a year-end gift to support ECO and partner with us in our shared vision of building a sustainable and equitable food system, one healthy neighborhood at a time.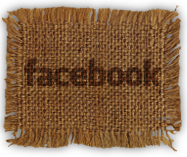 Keep up to date on ECO's work on our         
Facebook Page!
About ECO