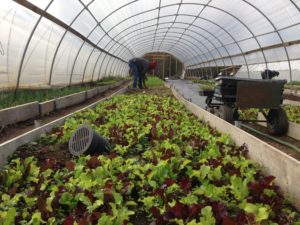 Established in 2010, ECO City Farms is an educational, non-profit organization located  in Prince George's County, Maryland designed to serve as a prototype for sustainable local urban farming. View our ECO IS Presentation.
We grow great food, farms and farmers!
We envision a just, vigorous and sustainable food system in the Chesapeake foodshed with ample fertile soil, quality environments and sustainable incomes for farmers, and access to nutritious high quality food for all.
ECO City Farms seeks to enhance food security, safety and access, to improve nutrition and health, to preserve cultural and ecological diversity, and to accelerate the transition to an economy based on preservation, recycling and restoration. We amplify community voice and engagement to reinvigorate the Chesapeake foodshed with sustainable ways of making food and money.
ECO City Farms educates, creates prototypes and incubates viable food-related income-producing enterprises through replication methods that:
Farm and grow healthy food;
Produce healthy soil;
Create diverse collaborations among new and seasoned, urban and rural farmers;
Offer experiential training, community-based education and workforce development;
Aggregate, market, process, and distribute local produce;
Reshape land-use policy and regulations to encourage local agriculture;
Promote environmental protection, renewable energy, and materials reuse;
Share financial strategies and resources;
Engage and empower youth and families;
Rekindle people's relationships to food as a source of enjoyment, nourishment and self-sufficiency.
ECO works to create a bio-diverse ecosystem to nourish our plants and animals, and a diverse inclusive workplace and farm community that respects and embraces differences  in all our activities and operations. These activities include, but are not limited to, the selection of Board Members, staff, interns, volunteers, vendors, trainees and beneficiaries.