Our 2014 Accomplishments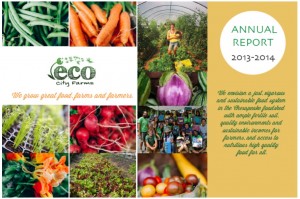 Check out our annual report above to see our 2013-2014 in review!
> We have expanded our farm programs and infrastructure, with a large hoophouse nursery, now being renovated for microgreens production and
plant starts at the Edmonston Farm. And a teaching barn, a new small hoophouse and a large worm house for our vermicomposting at the Bladensburg Farm.
> We have focused on family nutrition education with a 'train the trainer' program to engage area residents to teach community nutrition to their neighbors and peers.
> We have involved youth and their families in urban farming and healthy eating through the SEED2FEED youth program and our low income Eat Local Farm Share.
> We have trained, taught and informed hundreds of area residents about food access and justice issues through trainings, informational sessions, outreach and virtually all of our programming.
> We are the resounding community voice for better policies for expanding nutritious food access and for Prince George's County.
And of course, we will continue to grow great food, farms and farmers!