ECO CITY FARMS TO UNVEIL TWO NEW PROJECTS
"Cultivating Community/Cultivar La Comunidad" Mural and Tennis Court Farm
OCTOBER 11, 2011 – Engaged Community Offshoots, Inc. aka ECO City Farms, will unveil two new projects — a mural depicting a healthy food community and plans for an ambitious farm expansion — in a ceremony on Friday, October 21, from 10:30-11:30 a.m. at its urban farm located at 4913 Crittenden Street in Edmonston, Maryland. The unveiling ceremony will include brief tours of the two projects by muralist Matthew Gifford and ECO City Farms Green Builder Adam Schwartz, in addition to comments from local elected officials and funders.
In addition to the official unveiling, the farm staff will welcome community members for a Community Celebration of the projects from 4:00-6:00 p.m., also on Friday, October 21. Visitors will be treated to farm tours, food samples and door prize drawings, and asked to share their comments on the farm's additions and plans.
"Cultivating Community/Cultivar La Comunidad"

With funding from a National Endowment for the Arts Challenge America Fast Track grant and support from the Port Towns Community Development Corporation, artist Matthew Gifford and project manager Sonia Keiner, both of Hyattsville, have created a captivating mural at the entrance to ECO City Farms. The mural presents what a healthy community might look like with food at its center. The pleasure and community benefits of growing healthy organic food are depicted through elements including an earthworm, honeybees and their comb, compost, a forest of rainbow chard and a vibrant waterway pouring from and rippling through hands representing the diverse people of the Port Towns communities.
"We are thrilled to have this engaging public art grace our community farm," said Margaret Morgan-Hubbard, CEO of ECO City Farms. "Matt has captured the connections that ought to exist and that once did exist between food and the community, and beautifully rendered some of the ways in which we are trying to rebuild those connections."
Tennis Court Farm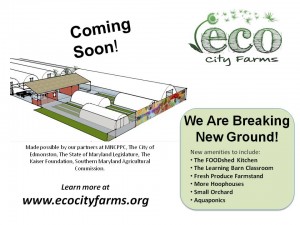 A long process of community input and collaboration with partners at the Maryland National Capital Park and Planning Commission has led to the expansion of ECO City Farms' operations to include the former tennis courts adjacent to the farm.  Tennis Court Farm will incorporate several major new components of ECO City Farms' model of urban agriculture:
the FOODshed, a low cost, replicable commercial kitchen for value-added processing and cold storage;

hoophouses over raised beds to increase and diversify vegetable production;

an outdoor learning pavilion for cooking and farming demonstrations, urban agriculture classes and community gatherings;

a farmstand for direct sales of ECO City Farms' produce to the surrounding community;

a demonstration aquaponics tank stocked with tilapia;

a de-paving demonstration showing what can be grown in soil that was once under asphalt.
 More information about all of ECO City Farms' current programs is online at www.ecocityfarms.org.
 ECO City Farms is an educational, not-for-profit enterprise located inside the Capital Beltway in Prince George's County, Maryland, designed to serve as a prototype for sustainable local farming. We grow great food, farms and farmers.
###