ECO City Farms in the News
2013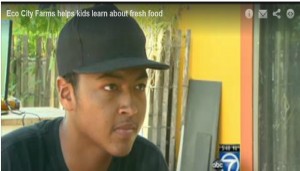 Local Grower Provides Produce to Top Eateries in DC
The Sentinel, September 27, 2013
Vegan restaurateur's truck aims to make Prince George's 'food desert' a little healthier
The Washington Post, September 12, 2013
Urban Farms Bloom in Concrete Desert
Voice of America, August 21, 2013
University of Maryland students go back to the land
Featuring ECO farm intern Anna Wallis. Washington Post, August 9, 2013.
USDA Labels Prince George's County "Food Desert" –  Focuses on food desert issues and features ECO's Edmonston farm. WRC- TV-4, Washington, DC, July 24, 2013.
Metro Connection segment on Summer Youth Program, WAMU 88.5 FM, Washington, DC.  July 19, 2013.
Eco City Farms helps children learn about healthy eating
Harris Heroes segment, WJLA TV-7, Washington, DC. July 17, 2013
Prince George's farm camp helps students grow healthy eating habits – Washington Post, July 3, 2013
2012
2011
2010

Press Releases