Spring/Summer 2016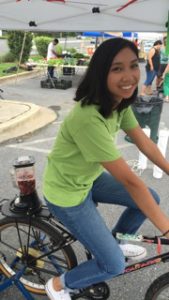 Jorelle Casumbal, Intern: Jorelle is a senior, Environmental Science and Technology major on a pre-medicine track from the University of Maryland, College Park. During her involvement with CIVICUS, a two-year living and learning program at UMD, she learned about the growing problem of food insecurity in the DC area. In a committed effort to help provide food assistance to DC residents, she began volunteering with the Capital Area Food Bank. While interning at ECO City Farms, Jorelle hopes to continue the fight to end food scarcity by educating local communities about growing their own food through sustainable urban farming. As an aspiring doctor, she is also excited to assist with nutrition education and encouraging healthier lifestyles. Jorelle will be serving as our Nutrition Education/Community Outreach Intern for the Summer/Fall season of 2016 and is looking forward to working with the ECO team.
Ashwin Suryavanshi, Intern: Ashwin is a junior, Government & Politics major with minors in Global Poverty and Technology Entrepreneurship from the University of Maryland, College Park. His interest in sustainable food culture and food equity stems from an aspiration to end food scarcity in the greater College Park area. While doing research for a class called "Innovation in the Public Sector," taught by former Howard County Executive Ken Ulman, Ashwin began to learn more and more about food insecurity and formed a team that is currently working to spread equal access to food across College Park. Ashwin also has a deep interest in nutrition and healthy lifestyle choices ever since he took a nutrition course in high school. Ashwin will be serving as our Public Relations/Communications Intern for the Summer 2016 and is very excited to learn more about the food culture in Maryland.
Demetrius Bowers, Apprentice: Demetrius grew up in Washington DC where he learned his passion for community service.  In the past ten years he has been a mentor for the youth in his community.  Demetrius has also been an Art teacher in DC Public and Charter Schools. Presently, his focus for community health has been his most prized endeavor realizing the lack of awareness of family illnesses, physical activity and poor dietary life-styles. Mr. Bowers is providing a healthier outlook for himself, family and community.  In just a few months he has  participated in ECO's City Farms Networking, Fundraising and Community service activities.  Being an active member, he looks forward to working with ECO for the long haul.
Andrea Neal, Apprentice: A native of Washington, D.C., Andrea has been passionate about growing and living things. From a young age she was inspired by her grandfather to grow to eat and take care of home. With hands on learning, Andrea was taught the basic tools of being gardening. Within ten years, she went from a small 4×4 garden box to expanding three times the size in her backyard. From this gardening experience and and learning about sustainability with our food supply, Andrea decided to take the plunge into farming and agriculture full time.  Starting as an apprentice this season, Andrea has learned plenty in respects to maintaining a farm. Along with the apprenticeship, Andrea also works the farmers stand at the market each Thursday. Andrea is excited to be apart of a team who understands the importance of healthy living, eating and education.
Ereini (Nini) Yiannouris, Intern: Growing up with a father with a bit of a green thumb, Nini was accustomed by the quality food cultured from the backyard garden. In addition, her dad sufficed his appetite with other homemade food-stuffs like jam, pickled peppers, yogurt, and sausages. The love and care of food became a stepping stone to where she is today. Currently, she is a senior undergrad at the University of Maryland, Baltimore County. There she studies Health Administration and Public Policy. Over the course of her schooling, she dedicated much of her studies to understanding the implementation of food assistance, Farm-to-School programs, and other initiatives. Her passion and schooling prompted her to further her interests. She is thrilled to be a part of ECO City Farms and identifies with the values that they promote. Everyone should be able to feel love and care provided by a backyard garden. Everyone should have access to quality food and bellies full.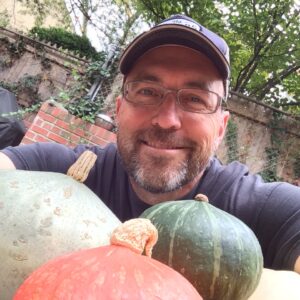 Michael Rudolph, Apprentice: Michael grew up in New Jersey, the Garden State, where his parents taught him the wonders of gardening from an early age. Mainly, he enjoyed the getting dirty part. A resident of the District of Columbia for over 20 years, he recently completed the UDC Master Gardener program where he was grateful to find so many like-minded people there who appreciate both the importance and taste of good locally grown food and active community involvement. Michael gardens in a community plot in DC and has volunteered locally with the National Arboretum, the Capital Area Food Bank and the DC DPR's Plot 2 Plate after-school program. He admires the advocacy work of Doug Tallamy and hopes to work with others locally to encourage abundant native gardening that will help preserve biodiversity in our region for future generations. Michael is excited to be part of the ECO City Farms team this season, sharing his passion for locally sustainable healthy food. Michael has been apprenticing with ECO since the Fall/Winter season of 2014.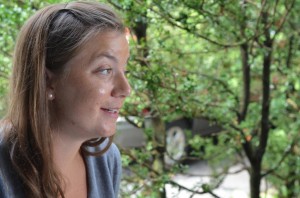 Ali Q. Phillips, Intern: Ali is currently a DC resident and lives and works in Adams Morgan. She works full-time as a nurse for a homeless shelter that provides medical services. She loves food and being outside. Ali hopes to spend time understanding and deepening the connections between food and health for the community she serves and for herself while interning at ECO City Farms. Ali has been an intern for ECO since the Spring/Summer season of 2014.
Spring/Summer 2015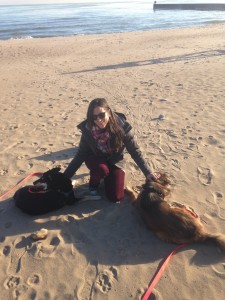 Liz Drew, Apprentice: Liz is originally from Chicago where she grew up spending time on family farms in the Midwest and gardening in her family's front yard. She has spent the last six years working in the Obama administration on refugee issues and promoting equal rights for LGBT communities and women and girls worldwide. Liz wrote her college thesis on small scale rubber farmers in southwest China, and she looks forward to continuing work with small scale farmers in the future, both in the U.S. and globally.  Liz is enjoying her new focus on supporting local communities and working with the team at ECO City Farms to grow beautiful food. Liz and her husband live in Shaw, DC with their beloved rescue animals- two dogs and two cats- all of whom help eat what Liz brings home from the farm.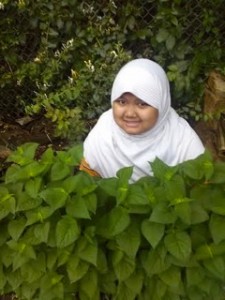 Syarah S. Mahira: Originally from the Islands of Indonesia, Syarah S. Mahira has always been fond of open fields and farms. Back in her home country, when she was a little girl, her playgrounds were the rice paddies located a mile from her home. Even now, at her College Park home, she considers her very productive backyard to be a most exciting place to learn and play. Syarah is the daughter of the highly talented and resourceful Roy Caspari, one of ECO's very first interns. She has been excited about ECO since early 2010, when her father worked at the farm. Syarah is now in the 8th grade and is home-schooled. As eldest of five kids, she is quiet busy, but she always finds a bit of time to research her favorite topic: herbs.  Her other great passions are animals, including livestock and forest creatures, especially wolves; adventure books; martial arts; and graphic designing on her computer.
Fall/Winter 2014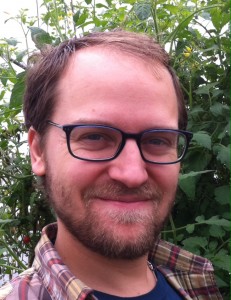 Nikolaus Euwer, Intern: I am originally from Washington, DC, where I have spent most of my life. I studied Philosophy in college and have been searching for my calling ever since. For the past year, I have been pursuing an education in nursing. Farming came into my life in an unexpected way, but it has been an eye-opening and enriching experience. I've travelled and lived in Oregon and North Carolina in pursuit of experiences in agriculture.
Overall, being able to be outside and observe living things is something that always fascinates me. I also have a growing interest in native edibles and urban agriculture. I feel very grateful to be part of the ECO City Farms community! It is a great place to be.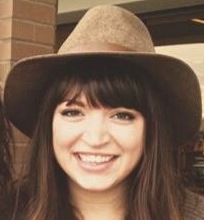 Emily Hanak, Intern: As a child, Emily frequented her grandparents' house where she loved playing with bugs in their garden- an interest that admittedly waned with age. However her interest in gardening/farming never disappeared, and while employed at various nonprofit jobs she found herself daydreaming of working outside. It can be argued that years of a sedentary office lifestyle idealized her concept of manual labor, but she's thoroughly enjoying her time at ECO City Farms, working with her hands and watching things grow. She is currently pursuing a Master's in Public Administration at DePaul University and hopes to connect her interest in local sustainable agriculture with knowledge of food security through her internship at ECO. In her free time she enjoys biking, running, hiking, and volunteering in Bread for the City's food pantry, where she witnesses firsthand the impact that access to healthy food has on individuals and families in her community.
Sarah Madrigal, Intern: My name is Sarah Madrigal, I am from Guadalajara Mexico, and I have a Degree in Visual Arts from University Of Guadalajara. During my college years I was a volunteer at a Sea Turtle camp. I have always been connected to nature and always have had this motivation to learn more about animals, gardening, and anything that connects us with mother earth. Now I am a stay at home mom of two sweet boys 2 1/2 years and 16 months. Being a Mom only pushed me more to want to have a vegetable garden for my boys. Then my husband and I took a Permaculture Workshop in WV, that made us very interested in ways to introduce Permaculture Principles to our Urban life. Then, I got an invitation to be part of ECO City Farms, as an Intern and I couldn't resist! It was exactly what I needed for me and for my family a place to learn about Urban Farming. Since then every day at ECO City Farms has been a learning experience, from new vegetables and greens to try to getting to know new people from the community at the Farmer's Market. I feel very glad that I joined the team and I hope soon I will have my own Urban Garden.
Spring/Summer 2014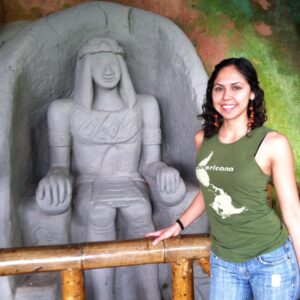 Andrea Zamudio, Apprentice:  Andrea graduated from the University of Maryland-College Park with a degree in Sociology and a minor in Latin American Studies. She was born in Bogotá, Colombia, is a 1.5 generation immigrant, and was raised in Maryland.
During her first job as a Community Health Worker in DC, she quickly realized that rampant food deserts in governmentally neglected working class communities of color perhaps have just as much of a detrimental effect on health as does inadequate access to medical care.  This further sparked her interest in the ways in which the environmental/food justice movement intersects with racial/class equality. She believes that a culture of instant gratification, and rampant consumerism coupled with increased urbanization has led many in her generation to be drastically distanced from the source of their food, and thus lacking knowledge on the nutritive/healing properties of raw fruits and vegetables.
For these reasons and many others, Andrea is very excited about joining the ECO City Farms family and participating in providing a healthy and affordable alternative, along with interactive community events to the surrounding neighborhood!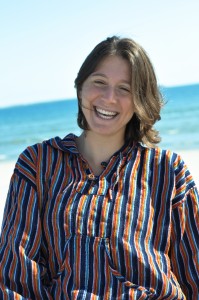 Susan Shuller, Intern: Susan is currently pursuing a Masters in Nonprofit Management and Leadership at the School of Public Policy at University of Maryland. She previously taught elementary special education in Baltimore and DC Public Schools and is passionate about learning, eating, growing and teaching about sustainable and locally grown food.  Susan looks forward to learning about local food policy, community outreach and fundraising with ECO City Farms.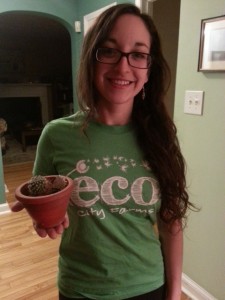 Cat Gannascoli, Intern: Cat graduated from the University of Vermont with a major in Environmental Studies and minors in Spanish and Community and International Development in 2012. This past summer she worked for a community development, youth leadership organization in Ecuador called Amigos de las Americas. She is currently working for Relay Foods, an online farmer's market and grocery store and is the co-coordinator for the Lead Now Fellowship. In her free time she enjoys biking, hiking, learning new recipes, and, in the summertime, watching movies outside. She is thrilled to join the team at Eco City Farms and learn about how to build a more just, sustainable food economy.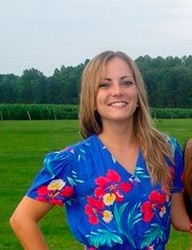 Alexa Orndorff, Intern: Alexa is a senior at American University, majoring in Environmental Studies and minoring in Graphic Design. Born in Kansas but raised in southern Georgia, Alexa spent her childhood surrounded by fields of cotton and peanuts. An avid photographer and occasional graphic designer, Alexa frequently incorporates social justice, political, and agricultural themes into her graphic design work. She has traveled to the Navajo Nation, Appalachia, and the Midwest to document environmental and social injustice through the alternative break program at American U, and her photography and design work for each trip was featured throughout campus. Alexa intends to merge her love of agriculture, social justice, and design into wherever the future takes her, ideally to a worker-owned farm somewhere out west.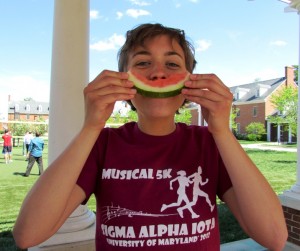 Alli Giza, Intern: Alli is an undergraduate student at the University of Maryland studying Environmental Science and Policy (concentration in Land Use), with a minor in sustainability studies. I have a special interest in sustainable agriculture and am very excited to start getting my hands dirty at ECO! Previously, I have worked for the Green Dining program at the University of Maryland, assessing and improving their committment to sustainable food sourcing, and leading students and faculty members in projects promoting and improving campus dining sustainability. My favorite vegetables and fruits include sweet potatoes, watermelon, squash, tomatoes, cucumber, and more! Other hobbies besides urban farming are reading, singing, running, yoga, cooking, and being in the front row at concerts.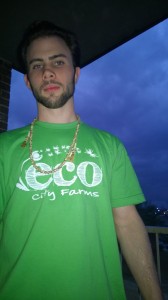 Gary Riley, Intern: My name is Gary and I'm just getting started in my farming life, here at ECO. I'm very interested in nutrition, and learning to grow the healthiest produce using organic, sustainable practices. I'm truly grateful to be beginning my journey as a member of the ECO family.