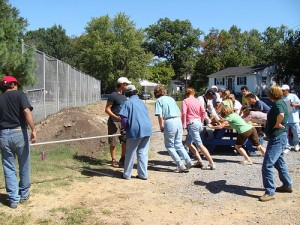 Community building and food justice work is impossible without committed partners, allies, friends, and collaborators who share a common vision. Working together, we are finding workable solutions to the complex issues surrounding local food production and access to healthy, sustainably produced food in urban neighborhoods.
ECO City Farms values the contributions and support of all our key partners.
Collaboration on programs, fundraising, advocacy and outreach amplifies our resources and is critical to our productivity and sustainability.
As foundational members of the Port Towns Community Health Partnership, we partner with each of the Port Town municipalities and the Port Towns Community Development Corporation, the Ecumenical Health Collaborative, End Time Harvest Ministries' Port Towns Youth Council, Community Forklift, Joe's Movement Emporium and the Anacostia Watershed Society to promote healthy eating, active living (HEAL). We enjoy close relationships with the Maryland–National Capital Park and Planning Commission who provided us with an office and land for our Edmonston farm, the Riverdale Park Farmers Market, Prince George's Community College, the Autumn Woods Apartment Complex (where our Bladensburg farm is located), Beacon Lights, and the Magic Johnson Empowerment Center.
We contract with the District Government to offer composting education at its elementary schools; work with Compost Cab to acquire food waste, partner with restaurants and business associations like BusBoys & Poets, Chipotle, MOMS, Whole Foods, Think Local First, DC and the Prince George's Chamber of Commerce on community programs; collaborate with Institute for Local Self-Reliance on Master Composting education; with Maryland University of Integrative Health on nutrition education and herbal medicine, with Zenful Bits, Citizen Cook Wilma Consul and Vegan Chef Sade Anderson on healthy cooking and eating, and engage with a host of local artists, musicians and poets on cultural programming and dance at the farm.
We are also well connected with a wide range of urban farming, food justice and community health groups, such as Growing Power in Milwaukee, Feed Denver, locally and nationally. Staff serve on the Board of Future Harvest CASA and the Port Towns CDC, and ECO received Slow Food DC's "Snail of Approval" award for 2012 and 2013.
ECO's CEO was awarded "the 2010 Distinguished Leadership Award for a Citizen Planner" by the National Capital Area's American Planning Association, and is a graduate of the Partnership for Prince George's LEAD class of 2013. ECO is a major community partner with both the Institute for Public Health Innovations and the Prince George's Health Department under their 2013 Community Transformation Grants from the Centers for Disease Control and Prevention (CDC), designed to improve the health and wellness of County residents.
Key Partners:
Thanks to our key organizational and community partners – listed here in alphabetical order: