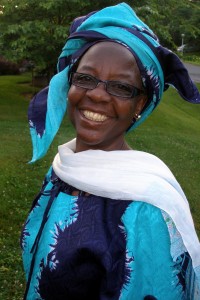 Aida Namukasa is the Associate Farmer at ECO City Farms at Bladensburg and a Community Nutrition Educator. Since joining ECO, she has taking many of our urban farming and nutrition education offerings.
My name is Aida, and I was part of the first cohort of 15 Master Composters trained in a partnership between the Institute for Local Self Reliance (ILSR) and ECO City Farms. Between November of 2014 until June 2015, I completed all composting courses and training. Upon completion of the Advanced Composter course, all participants were required to develop a "capstone" project—a project that advances community composting in our neighborhoods, which was part of the Neighborhood Soil Rebuilders Advanced Composter program.
My Capstone project concentrated on outreach around the neighborhood close to ECO City Farms Bladensburg and the main objectives were to bring awareness to the need of recycling food waste by composting and to inform the community about healthy eating and active living.
I called my project 'Bladensburg Neighborhood Composting Network/La Red Comunitaria de Compostaje en Bladensburg,' which targeted the communities of Autumn Woods, Parkway Condominium, Hamlet townhouses, Emerson House and Gateway apartments. All these places are walking distance to the Bladensburg farm. My involvement with the neighborhood required undertaking outreach within the community, sharing information regarding healthy food and beneficial ways of disposing of leftover food scraps from their kitchens. However, bringing awareness to the community was not easy and the early days were challenging.
We allocated two green compost bins outside the Bladensburg farm fence. One is situated at the main gate along Emerson Street and the other is at the back gate facing Autumn Woods Apartments, by Logan Way (pictured). During the entire year, I engaged in conversations with my neighbors and as I walked to the farm, I engaged in conversations with my neighbors and invited people to come for tours. I needed a tool to communicate with people, so with the help of Viviana Lindo, the Director of Community Education we created a bilingual flyer (below). This gave me the opportunity to explain what food scraps from their kitchen are beneficial when fed to worms, what to put in the bin and what to omit.
Viviana also helped me engage the local school in this project. She put me in contact with a Science teacher and the 6th grade Earth Savers Club from Port Towns Elementary School. The Earth Savers agreed to collect lunch leftovers. After a month of collecting food waste, they came to the farm (pictured).  Benny Erez, ECO's compost guru and I explained how leftover food when, fed to worms close, the cycle and created beneficial soil amendment, called hummus. The students learned that we are all part of a cycle that benefits all organisms.  Hummus returns back to the soil allowing microbes in the soil to feed the plants we eat.  The leftover food was collected in two white 5 gallon buckets, painted and decorated by my daughter Aminah. The artwork on the buckets had fruits and vegetables indicating what could be collected for composting (pictured). Thanks to the Earth Savers, we where able to collect 5,011 lbs. (2.3 tons) of food waste in one-year period, which was used regularly to feed the worms in ECO's ten worm bins located at the Bladensburg Farm.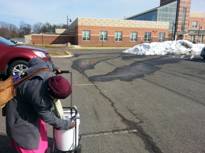 During the entire year, I was able to collect a total of 7,800 lbs. (3.5 tons) of food waste that came from the neighborhood, Port Towns ES and my household. Also, during the months of January through June 2015, iHope Project For Humanity faithfully delivered all food waste to our Bladensburg site twice a month, delivering a total of 3,450lb (4.7 tons) of food waste.
Conclusion
Monday through Friday for a whole year, I've collected two full bucket of food waste from Port Towns ES and taken them to the farm, and then I sort out non-compostable materials and then return the buckets to school. This has been quite a commitment, and I learned a lot through this process.
Although the Capstone Project ended in June 2015, I continue with the outreach work, which is necessary in order to educate more people about the importance of composting. More students from Port Towns ES have joined the Bladensburg Neighborhood Composting Network and the two buckets are not enough to collect what they generate. Recently, Viviana conducted a parent workshop at Roger Height Elementary School, which is located right next to Port Towns ES, and parents express interest in participating in food waste collection. This means that more and more people will start contribute food waste to those green bins, and a job opportunity might emerge.
For more information about this project, contact Aida Namukasa, aida@ecocityfarms.org