Happy Autumn everyone!
Since it is now officially a new season, we taught the Urban Commercial Agriculture class how to put plastic over a hoophouse (demonstrated on hoophouse number 4, the one with the worms, compost and shoots). The days are still pretty hot here in Maryland, so we created some ventilation slots between the layers of plastic and put a shade cloth over it. In the winter everything will be sealed tight to be keep it nice and toasty for the worms, shoots and, eventually, fish.

Our volunteers put the finishing touches on the worm bins and now all 16 bins are installed and ready for compost!


Working hard in the hot hoophouse!
We're planting more lettuce seeds in trays.


Most of the baby lettuce that was planted last week has been transplanted into the beds, here's a batch ready for transplanting.
Some volunteers painstakingly sorting through the vermicompost, fishing out all the worms and worm eggs. This process will be a lot easier once we build worm drum rotators.


We densely planted 12 trays with pea shoots for Cafe Green and Eatonville restaurants in DC. The seeds were soaked for a day prior and then planted in coconut coir (shredded coconut skins, a more moisture-absorbent alternative to soil) and watered.
In addition to selling our produce every Wednesday at the Crossroads Farmer's Market in Takoma Park, we now have three regular buyers – Cafe Green, Eatonville and the University of Maryland Food Co-op! 🙂

A volunteer watering the emu spinach with Compost Tea. We water our plants with it typically every 2-3 days.
The compost tea is made in the cylindrical container pictured below. Compost tea has the same needs as anyone – water, oxygen and food! City water has chlorine in it, which kills bad bacteria but also has some detrimental effects. In order to offset these effects and provide more nutrition for the plants, we create compost tea. To make it, we first remove the chlorine with a fish tank air filter, then lower a "tea bag" of compost (a burlap bag with vermiculture) into the water to brew for 24-72 hours. We also add molasses to the mix to give the good bacteria an extra boost of energy food. Then it's ready to use!


The swiss chard is looking big!

The first nasturtium flower! We'll be selling these beautiful edible flowers to restaurants soon, usually used in salads.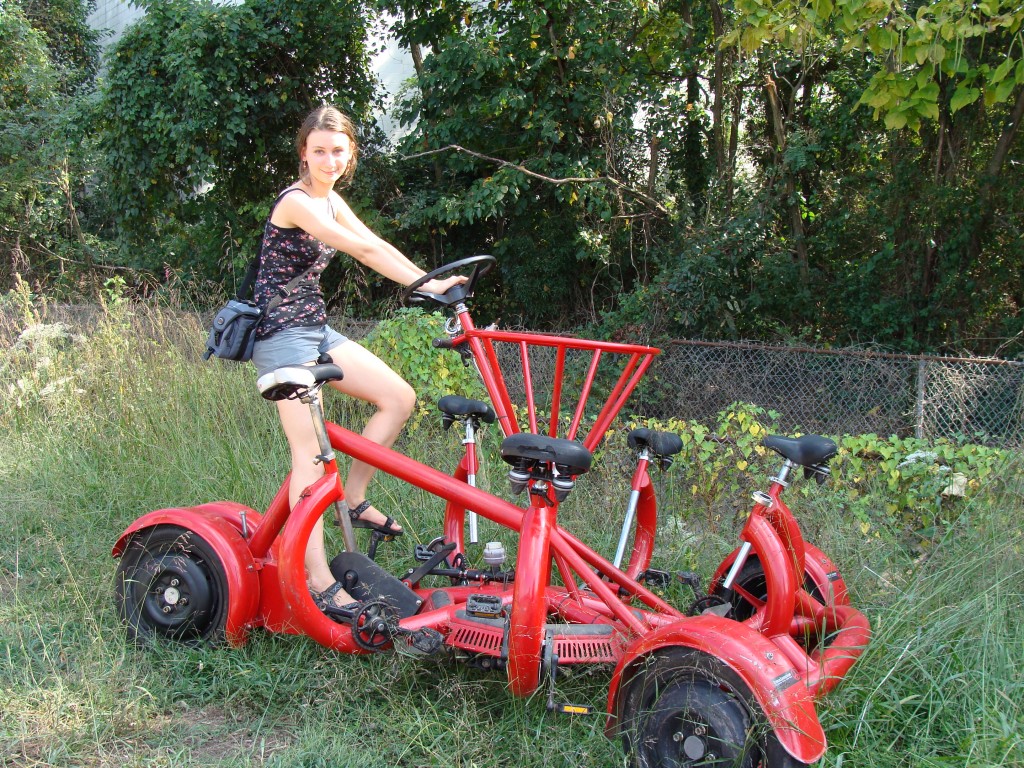 Natalya riding ECOffshoots' seven-person bike with six imaginary volunteers.. Come fill in the spots! We especially welcome you after the busy days described below.
ECO's been getting more outreach opportunities lately. This weekend we had 20 volunteers come from University of Maryland's Terp Service Day through the Community Service Center. And next Saturday 50 Alternative Spring Break trip leaders are visiting the farm.
Thank you to everyone for the comments on last week's blog! We haven't decided yet on the perfect name for our rooster…
Peace and Carrots,
Natalya and the ECOcrew