February 2014
Let's TALK about growing HEALTHY FOOD in the Bladensburg Community.  Join us at the Community Farm Awareness Public Meeting in the Town of Bladensburg February 11th, 2014 @ 6:00 P.M.
Where: Emerson House Senior Apartment Complex
5999 Emerson Street, Bladensburg, Maryland 20710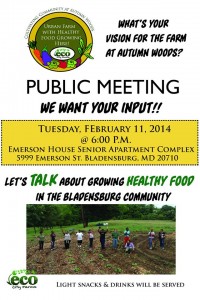 November 2013
Fall has proven to be a busy season at the Autumn Woods Farm. The transition to winter is almost complete. Two low tunnels were finished, helping to protect rows of lettuce, spinach, and pac choi, from this week's freezing temperatures. The fall has also brought strange weather. Unseasonably warm weather, with temperatures near 90 in early October, led to an extended planting period. One wet week in October that produced 6+ inches of rain, followed by four dry weeks has led to interesting growing conditions.
In addition to the winterizing of the farm, all of the winter crops have been planted.  Rows of peppers have been replaced by rows of kale, tomatoes for scallions, and eggplant for collards. This season, the farm will be growing for our Eat Local Farm Share
program, which you can find out more about on our website. There will be different types of kale, collards, mustard greens, cabbage, pac choi, different types of lettuce, spinach, swiss chard, and scallions growing through the winter and into spring.
Our farmers cannot take all of the credit for the work being done at Autumn Woods; we have had some help along the way. Every week a group of enthusiastic young farmers from Elizabeth Seaton High School join us to learn about farming and healthy food, while helping us with prepping beds, planting, weeding, winterizing the farm, and preparing new land for next season by adding compost and other organic matter like leaves, which are being delivered from the surrounding towns. We are also joined by students from the Magic Johnson Center at the Autumn Woods apartment complex, who lend us a hand with different tasks, while learning new and exciting things about soil, bugs, and plants.
It is an exciting time at Autumn Woods, as we expand our growing capacities and our engagement with the surrounding community.
Students from Elizabeth Seaton HS and Port Towns ES help us clear and prep beds for new planting
Wild weather allowed sunflowers to blossom late, as the construction of low tunnels was nearly complete