May 10 – 2011
Lady bug larvae have been spotted! And hoverflies and parasitic wasps! 
Emma and some volunteers dug a new herb and natives bed, while other recently built beneficial beds are coming to fruition.
Tomatoes are in the ground, along with some other summer crops, like cucumbers.  Basil has been seeded in the nursery and beans are soon to follow.  You can see one of the tomatoes already reddening…
Cara and Adam planted fig trees along the driveway earlier this month, and the peach tree has seemingly survived, while the raspberries from Master Peace are finding comfort in their new home.  Same goes for the blackberries and herbs in the back near the bees. Can't wait to see how these new plants all develop into the season.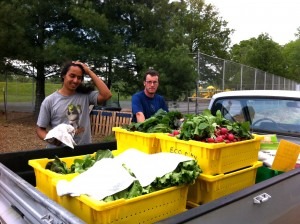 We've also got a farm truck! It's running well for its age and will really help us get our produce freshly picked to our markets at Riverdale Park on Thursdays and, starting next week, Crossroads on Wednesdays.