If you conceal your grief, you have no remedy for it.  (Turkish proverb)
ECO City Farms Board and Staff join our friend and colleague Gul Güleryüz in grieving the death of her mother, Hilkat Güleryüz, on May 28, 2017.  
Today we establish the Hilkat Güleryüz Memorial Fund in her name.
After a long,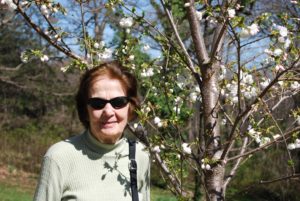 caring and fruitful life, Hilkat Güleryüz, passed away on May 28, 2017 at the age of 98. An accomplished and meticulous cook, her longevity can be attributed to a life devoted to preparing and eating fresh, healthy nutritious food with friends and family. Her body will return to her homeland to be buried in Istanbul.  Hilkat Güleryüz is the beloved mother of one of ECO City Farm's founding Board members, Prince George's County planner and food justice leader, Gül Güleryüz.
In honor of Hilkat Güleryüz, and as an enduring tribute to a magnificent woman and devoted mother, and entire family's passion for delicious food, thriving local farms and healthy communities, we have established the Hilkat Güleryüz Memorial Fund at ECO City Farms.
Your contribution to this fund will support SEED2FEED, ECO's signature summer youth employment program. Every summer for six-weeks ECO supports paid summer internships for 25 local youth who learn about growing, preparing and cooking healthy food and exploring related career options. All contributors to this fund are invited to visit ECO City Farms to witness all facets of organic farming and healthy eating.
To contribute to the Hilkat Güleryüz Memorial Fund at ECO City Farms, please mail a check made out to "ECO City Farms" to our offices at 6010 Taylor Road, Riverdale, MD 20737. You can indicate on the check itself or in an attached note that the offering is in the memory of Hilkat Güleryüz.
If you prefer to contribute online, you can contribute through PayPal or Razoo. Indicate that the contribution is for the Hilkat Güleryüz Memorial Fund.
No one is actually gone until the ripples they caused in the world fade away.