Reconnecting with Agriculture and Our Food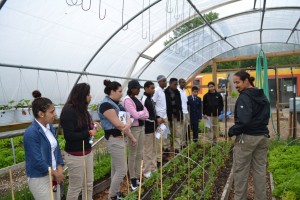 The diminishing number of farmers is a problem for sustainable agriculture across America. In communities such as Edmonston, the Port Towns and other inner-Beltway neighborhoods of Prince George's County, where farming and food production have not been part of the social fabric for generations, we are working to rebuild connections to agriculture as a key tool for improving community health.
Part of our mission is to train farmers who will go on to grow healthy produce and livestock in Prince George's County, in both urban and rural settings, and to sell that produce through farmers markets, community supported agriculture programs, and retail outlets within the county. Our model of farming offers equal opportunity challenges and rewards, regardless of gender, race, ethnicity, age or country of origin. Everyone eats, and we want everyone to see farming and food production as a viable pursuit if they so choose.
We also provide many forms of outreach to teach about healthy food and eating, urban agriculture, food justice issues and more to adults and kids of all ages.