Thanks for your interest in our internship and apprenticeships!  Below you will find information about the program, from learning objectives and our mission, to our curriculum, to our staff and facilities, and how to apply.  As you read, you will also hear and see about the program from former interns and apprentices.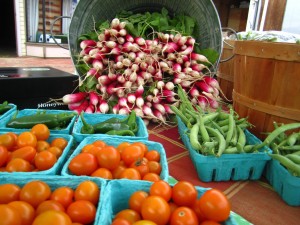 I thoroughly enjoyed my internship at EcoCity Farm.  I came to the internship as an experienced gardener, but had not ever worked on the scale of a farm.  It was tremendous to gain experience in so many steps of the process from preparing and seeding planting beds, to starting and then transplanting seedlings and participating in the harvest of such a great variety of vegetables.  We worked hard, but felt satisfied at the end of a good days work.More than the mechanics however, was the great sense of community and purpose.  You will not find a better mentor than Christian Melendez, the farm manager.  He is experienced and knowledgeable, a great teacher, and always pleasant to be around.  The interns were a good working team and Christian managed that team with grace and good humor.
Unfortunately, my internship was cut short by a couple of months because I broke my arm.  (NOT AT THE FARM!)  While recuperating, Christian and the interns brought and shared a wonderful lunch with me at my home.  I don't think there are too many internships that extend that kind of care!  EcoCity is a vibrant place and a fabulous place to deepen your knowledge and experience of growing food.
-Judy Walsh-Mellett (Intern, Spring/Summer 2013)
LEARNING OBJECTIVES & OUR MISSION
We need more growers and advocates for small, sustainable agriculture!  Only a small fraction of this country's population is growing their own food.  The link between farmland and food is the farmer.  Through our internships and apprenticeships, we seek to engage people in urban food production, using our urban farms as outdoor classrooms, supplemented by various on and off-farm workshops and visits.  More than food, our biggest export is inspiration about local farming, especially in urban environments.
As an intern or apprentice, one will be involved in all aspects of our operation.  This includes, but is not limited to:
Soil preparation and management
Nursery production and management
Field seeding and transplanting
Maintenance of the garden beds (irrigation, feeding, weeding, mulching, pruning, and more)
Harvesting, post-harvest processing, and marketing of the produce
Composting (Aerobic Windrows and Vermi-composting)
Livestock Management
Crop Planning and Recordkeeping
I took ECO City's class because I wanted to get some basic, yet practical information on commercial agriculture in an urban setting. The course I took at Eco was a constructive part of my continuing immersion into urban agriculture, and helped me pragmatically understand the field, as well as formulate some of the ideas I currently pursue. I am now in my home country, Greece, and am in the process of setting up both urban farms and school gardens in Athens. Once I learnt the basics, all I needed to do was adapt the details to my local environment in my attempt implement urban agriculture!

-Alkis Downward (Compost Intern, 2012-2013)
WHAT YOU CAN EXPECT DURING THE EXPERIENCE
Our curriculum is expansive and thorough.  Mostly hands-on, but with a bit of lecture, and always time to discuss, we aim to prepare our interns and apprentices for future experiences in small-scale, sustainable agriculture (with an urban twist!).  Click HERE for an in-depth look at our curriculum.
As you will see in the Curriculum, we have many events during the season for interns and apprentices.  Here is a sampling of what one can expect:
3-Day Urban Agriculture Intensive Training by ECO City Farms (Spring and Fall)
One day Urban Ag workshops (monthly)
Chesapeake CRAFT (monthly during the main season): The Chesapeake Collaborative Regional Alliance for Farmer Training is a series of farm visits, with potlucks and workshops, aimed at the beginning farmer/intern/apprentice.  Its a great and fun way to connect with other local farms in the MD/VA/DC region.
Farm Work Exchanges (1-2 per season)
The exchange is primarily an educational one.  We do offer apprentices a weekly travel stipend of $10 and a weekly CSA bag.  We are working towards expanding our offering, however, we believe the experience and opportunities currently available are worthwhile.
Interning at ECO was such a great experience!  From making potting mix and starting seeds in the nursery to harvesting vegetables and working at the farmers market, the work was super fun and holistic.  Add a little duck herding, beekeeping, and vermicomposting, and you start to get an idea of the breadth of the operation that is going on at ECO.  

Beyond the actual farming, the organization is made up of a really inspirational team of people—everyone involved is so innovative, excited, and motivated by a real desire to give back in the community.  They create this amazing energy that attracts fun, interesting people that want to get their hands dirty helping others.  Who knew that such a dedicated organic urban farm was just a couple miles from DC and from UMD?  

ECO City is a great place to learn (and share!) knowledge about urban farming.  I am always telling friends to get involved, if not as an intern just for one of the volunteer days or the urban farming classes!

-Anna Wallis (Farm Intern 2013)
ABOUT THE STAFF AND FACILITIES
Interns and apprentices will work primarily with the Deborah Wren (Edmonston Urban Farm Manager), Colin Mahoney (Bladensburg Farm Manager) or Amanda West (Operations Manager).  Over time, they will work with other farm staff, such as Benny Erez and Christian Melendez.  To learn more about our staff, click here.
ECO City Farms at Edmonston is nestled on a 1.3 acres within a mixed-use neighborhood and adjacent to the Anacostia River, is now an intensively cultivated community gathering space. Started in 2010, its been built with the assistance of interns and apprentices since the beginning.  The farm houses 5 four season-extending hoophouses , 4 of which are on compost-enriched small plots and the other being a nursery and microgreens operation. Scattered throughout the site are fruit trees, herbs, a rain garden, and Hugulkultur beds.  There is also an upcycled farm kitchen or FoodShed (it was converted from a shipping container) and cold storage (powered by a Cool-Bot).  Lastly, the farm has a huge defunct tennis court that is being built up as part of the educational and community space of the farm. It is home to our farm cat, Rosie, a few bee hives, and a small band of ducks.
ECO City Farms at Bladensburg is located on 3.5 acres of land formerly occupied by three multifamily apartment buildings. It provides healthy food for the residents of the adjacent subsidized housing complex and the larger "healthy food deprived" neighborhood. The farm employs permaculture and season-extension techniques to its large productive growing space, which now includes a teaching barn, a pop-up kitchen, a 5-month on-farm market stand,
a small hoophouse, bee hives, and a large worm house for our vermicomposting.
STILL THINKING ABOUT APPLYING…?
Please visit our Curriculum page and our Thinking About Applying? page for more information.
If you'd like to speak with someone about the program, contact the Edmonston Urban Farm Manager, Deborah Wren: deborah@ecocityfarms.org