Farming Apprenticeships & Internships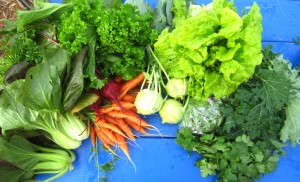 ECO's apprenticeships and internships present an immersive, hands-on opportunity to learn about sustainable urban agriculture by working directly with experienced farm staff. In addition, you make a significant contribution to ECO's programs.
Apprenticeships are for those who've demonstrated a long-term commitment to farming.  It is a weekly 16-hour commitment. Apprentices receive a weekly CSA bag, in-kind opportunities for workshops, courses and farm visits, and a weekly travel stipend.  
Internships are for those who want to get a feel for urban farming without making a huge commitment.  It is a weekly 6-hour commitment. Interns are unpaid, but receive in-kind opportunities for workshops, courses, and farm visits.
Youth Education & Outreach: Interns and apprentices also have the opportunity to contribute to ECO's youth education and outreach efforts, such as the SEED2FEED summer youth program, after school program and community events.
Both Internships and Apprenticeships run in 2 cycles: a spring/summer season (March-September) and a fall/winter season (September-March).
How to Apply: If you're interesting in farming, you need to fill out the New England Small Farmer Self-Assessment, and also fill out the ECO's Apprenticeship/Internship Application. For those interested in youth education & outreach, just complete the application.
Please send your complete application to:
Gabrielle Rovegno: gabrielle@ecocityfarms.org
Mail or drop off: 6010 Taylor Rd. Riverdale, MD 20737
 For additional questions, please email Gabrielle Rovegno: gabrielle@ecocityfarms.org