Farm Apprenticeships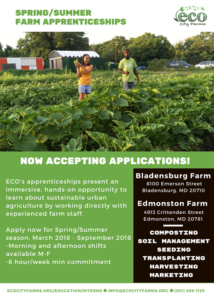 ECO's apprenticeships present an immersive, hands-on opportunity to learn about sustainable urban agriculture by working directly with experienced farm staff. In addition, you make a significant contribution to ECO's programs.
What to expect: Apprenticeships are for those who are dedicated to coming to the farm in all weather to get real-hands farm experience.  It is a weekly 6-hour min commitment (at least 2 full shifts a week). Morning shifts are 9am to 12pm, afternoon shifts are 1pm to 4pm. Farmers market shifts start in May.
Apprenticeships run in 2 cycles: a spring/summer season (March-September) and a fall/winter season (October-March). Apprenticing happens at both the Bladensburg and Edmonston farm. Apprentices receive produce, participate in trainings and can work on an independent study project on the farm. 
How to Apply: 
If you're interesting in apprenticing at ECO just fill out the application!
 For additional questions, please email info@ecocityfarms.org