Farming Apprenticeships & Internships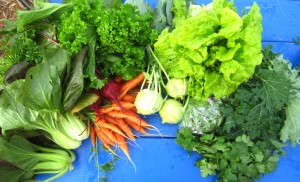 ECO's apprenticeships present an immersive, hands-on opportunity to learn about sustainable urban agriculture by working directly with experienced farm staff. In addition, you make a significant contribution to ECO's programs.
What to expect: Apprenticeships are for those who are dedicated to coming to the farm in all weather to get real-hands farm experience.  It is a weekly 6-hour commitment, and each trip to the farm must be for at least 3 hours. 
Apprentices receive produce, participate in trainings and can work on an independent study project on the farm. Morning shifts start at 9am, and afternoon shifts start at 1pm. Apprenticing happens at both the Bladensburg and Edmonston farm. 
Apprenticeships run in 2 cycles: a spring/summer season (March-September) and a fall/winter season (October-March).
What you will gain: Apprentices will learn the following skills:
Field Work
o    Prepare beds for direct seeds
o    Prepare beds for transplants
o    Distinguish between different plants and seedlings
o    Identify insects and weeds
o    Apply different Integrated Pest Management Practices
o    Space plants appropriately
o    Water at appropriate times
o    Weed manually and using various tools
o    Trellis, using different staking systems
o    Record observations
o    Determine plant maturity and harvest accordingly
o    Record harvest yields
Greenhouse
o    Create potting mix
o    Seed flats
o    Weed
o    Thin
o    Water
o    Prepare for transplanting
o    Record
Processing:
o    Clean produce – plant species dependent
o    Package produce – plant species dependent
o    Recording harvest yields
Farm Marketing:
o    Direct sales with customers
o    Deliver and assist with local restaurant sales
Microgreens:
o    Monitor and water
o    Harvest
o    Process and package
Composting:
o    Differentiate between aerobic and anaerobic compost systems
o    Monitor windrow piles
o    Sift and harvest hummus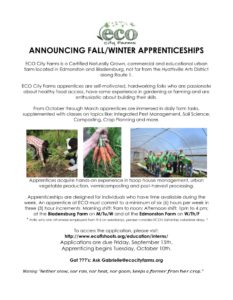 Vermicomposting:
o    Monitor, feed and water worms
o    Harvest and sift castings
How to Apply: 
If you're interesting in apprenticing at ECO just fill out the application! Deadline for Fall/Winter is COB September, 15th. 
 For additional questions, please email Gabrielle Rovegno: gabrielle@ecocityfarms.org