Farming Apprenticeships & Internships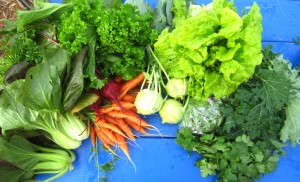 ECO's apprenticeships and internships present an immersive, hands-on opportunity to learn about sustainable urban agriculture by working directly with experienced farm staff. In addition, you make a significant contribution to ECO's programs.
Apprenticeships are for those who've demonstrated a long-term commitment to farming.  It is a weekly 16-hour commitment. Apprentices receive a weekly CSA bag, in-kind opportunities for workshops, courses and farm visits, and a weekly travel stipend.  
Internships are for those who want to get a feel for urban farming without making a huge commitment.  It is a weekly 6-hour commitment. Interns are unpaid, but receive in-kind opportunities for workshops, courses, and farm visits.
Both Internships and Apprenticeships run in 2 cycles: a spring/summer season (March-September) and a fall/winter season (September-March).
How to Apply:  To learn more about the program, the curriculum, and how to apply, see menu at right or click here.

For additional questions, please email Gabrielle Rovegno: gabrielle@ecocityfarms.org