At ECO City Farms, we never tire of talking about urban agriculture and the importance of nutritious local food for a healthy community!
We love to conduct  outreach and education on food, farming, soil, composting, healthy eating and  cooking, and more.  We work with people of all ages.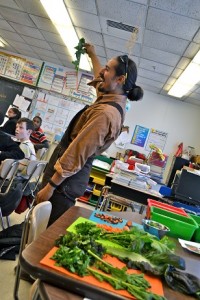 Our farm educators love bringing the farm to the classroom!  We do class presentations for all types of schools: elementary, middle, and high school.  We are available both during the day and for after-school programs.
We also work with schools to design and build systems for on-site composting and gardening, which are great hands-on experiential classrooms for teachers and students.
Click on the photo or title for more information.
Visit our Nutrition Education page for more info.
We have 2 nutrition education programs for the community:
Let's Talk Food: In partnership with the Maryland University of Integrative Health (MUIH)'s graduate program in Nutrition and Integrative Health, ECO City Farms conducts community conversations about Healthy Eating and Active Living (HEAL).
Let's Talk Food Training: We also train community residents to become Community Nutrition Educators, who will continue these community HEAL conversations throughout Prince George's County's inner Beltway neighborhoods.
Click on the photo or title for more information.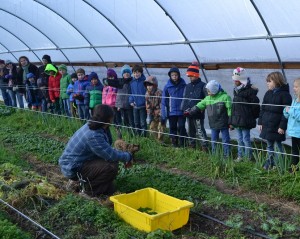 We welcome all to experience our urban farms.  Our farm staff will walk you through the farm and explain every piece of the operation.  There are regularly-scheduled free tours each month and paid tours and school field trips for those occurring outside the free tour hours.
Each month, from March-November, we also host the public to volunteer for a few hours on Saturday to get their hands dirty and work alongside us.  The contribution to the farms' creation and evolution over the years is largely due to the willingness and good work of volunteers.  It's a great way to learn, meet others, and help our farms succeed.
Click on the photo or title for more information.
Through the hands-on work of growing food, cooking, and food justice outreach, our summer SEED to FEED program will grow strong, healthy, and inspired teens who live and/or go to school in Bladensburg. We create a safe space where they can experience leadership development, personal growth, collaboration and job training.
Click on the photo or title for more information.