Visiting the Farm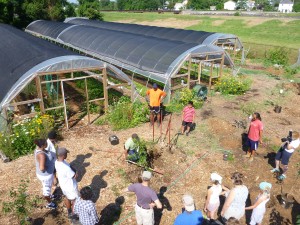 We welcome visitors to our farm to learn more about what we do. There are several ways you can visit the farm:
FREE Monthly Farm Tours:
Join us at 12:15 on the Saturdays after volunteer days from March to November for an hour farm tour of our Bladensburg urban farm. To join the free tour, contact Kayla at kayla@ecocityfarms.org  to register.
Scheduled Farm Tours:
If you can't attend the FREE tour, we can still arrange a private tour of the farm.  We charge per tour depending on the size of the group.  For more information follow this link: Farm Tours.
Volunteering:
This is a popular and fun way to get involved in the work of the farm.  Each volunteer day is full of unique and routine jobs.  Besides the typical mulching and weeding, we have built rain gardens, Hugulkulturs (lazy person's raised bed/compost pile), compost piles, harvested crops for market, planted fruit trees, and more.
From March-November, on Saturdays, we host volunteers from 9am-12pm.  Visit our VOLUNTEERING page for more information or contact the Volunteer Coordinator, Kayla Agonoy: kayla@ecocityfarms.org
Directions to our Farms: Find directions and parking information here.