On a mild Saturday morning, I drove to the newly launched Hollywood Farmers Market. I was looking for Roy, an Indonesian man who was selling his produce at the market. I had no idea what Roy looked like, but knew that he was an ECO Farms "success story," according to Amanda – ECO Farms' Operation Manager.
I navigated the loose grid of tables, stands and pop-up shops in the northern corner of the Hollywood Shopping Center. The vendors represented almost each corner of Prince George's County. Hand-painted wooden signs and dry erase boards marked each vendor's table. No two were alike.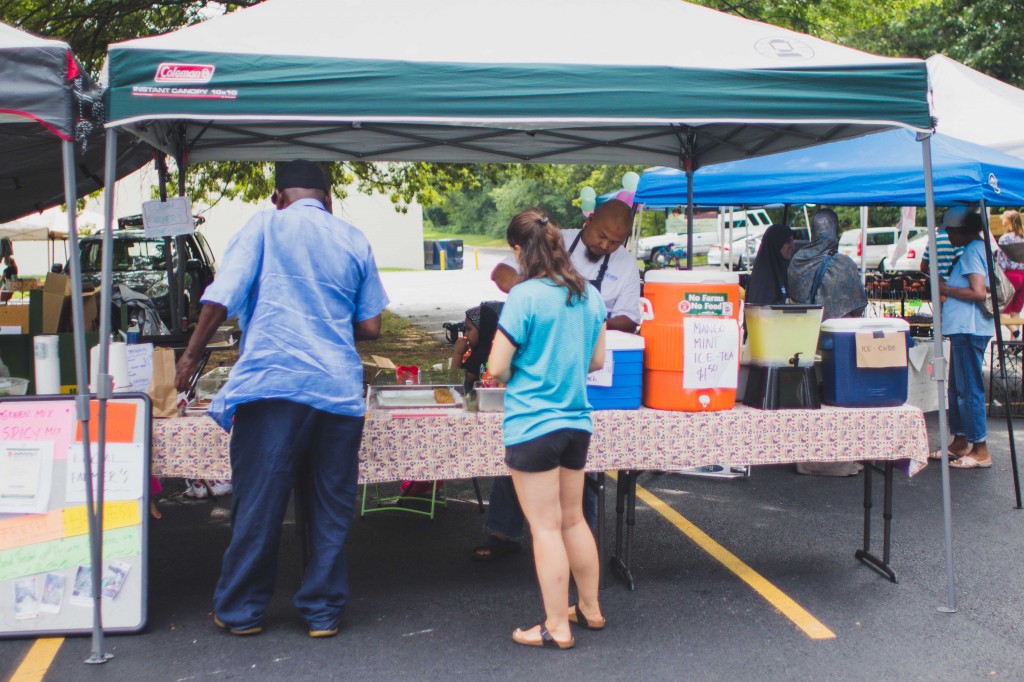 I walked to the table and found a table had no discernible name – just a menu and signs that identified each tray or container. I found Roy completing a sale of egg rolls and mango mint iced-tea. To his right, his wife stuffed cilantro into a clear plastic bag (they had grown so much of the herb that they decided to give some away). His two young children alternated sitting in a chair and playing with assorted toys in a small area behind the two tables of food. Roy greeted me warmly. Right away, he offered me some of the tea as well as a green smoothie, while he attended to a couple customers who seemed as impressed as I was by his produce and food.
I set my camera bag on a bench behind his tables, and met Mario, Roy's mentor, and a gardener himself, gave me a bit of background on his work with Roy. After completing some sales, Roy took his gloves off, shook my hand and joined in the conversation. "He had a lot of compost," explains Mario, " almost 20 piles in his backyard." Long before he cultivated his own backyard to dozens of varieties of vegetables, "they taught me don't worry about the plants – soil, soil, soil! No good, soil, no fruits, no plants no nothing!"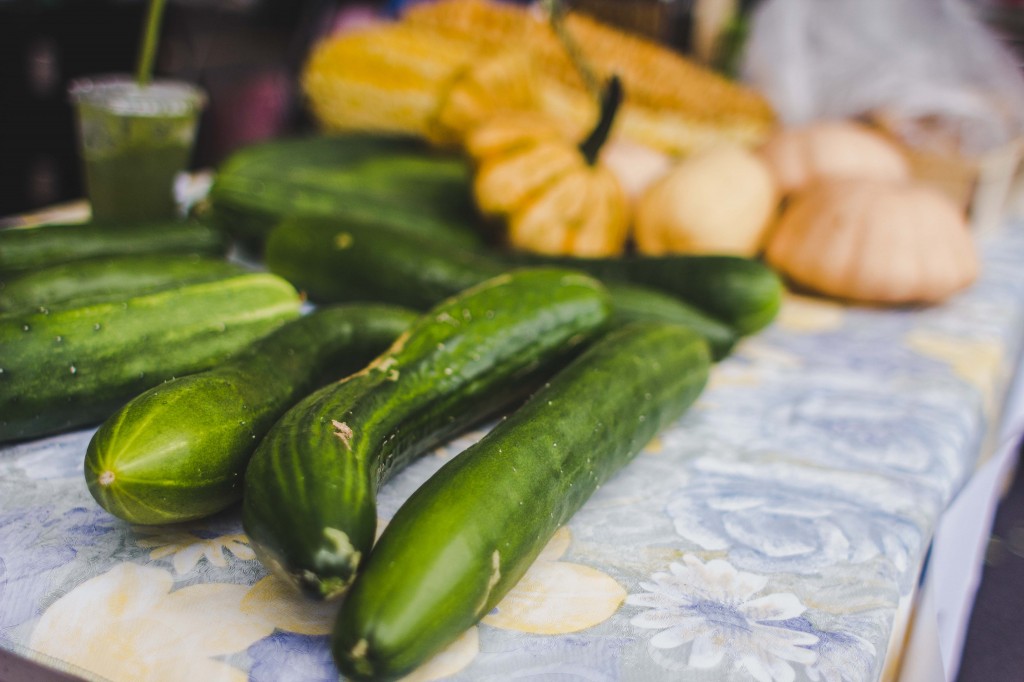 In 2010, ECO City Farms, the brainchild of Margaret Morgan-Hubbard with help from long-time collaborator Christian Mendez, had recently launched. That summer, they created an eleven-month program, aptly titled the Immigrant Farmers program, with the goal of training farmers from diverse backgrounds in small-scale, organic farming in urban areas. ECO partnered with the Langley Park farmer's market and also received funding from healthcare consortium Kaiser Permanente. Roy, who had recently immigrated from Indonesia, found the class by searching on the internet and immediately enrolled. "The first time I came to ECO City, that was it! I was like woah! Excellent" he says, with a smile.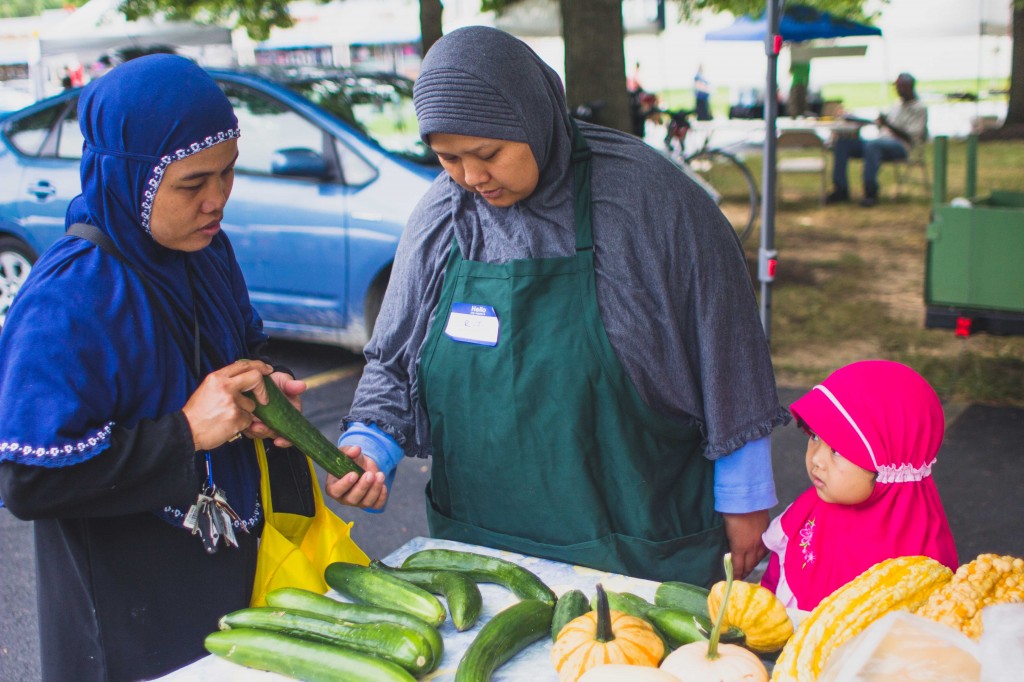 After introducing Roy to composting, the program gave him a crash-course on other necessary aspects of growing food including permaculture. Once a week, he would go to the farm to attend the class, but that wasn't enough. Motivated by his newfound passion, Roy often came to volunteer at the farm, two or three additional days in the week. But Roy wanted to be a farmer for a living. In order to learn the business of selling food, he spent time at Langley Park as well as University of Maryland's farmers markets. He learned how to market himself as well as meet the demands of the clients.
Roy spent the next couple of years using his training to transform his backyard into his own compact farm. He started to grow fruits, herbs and vegetables. Eventually, he built a coop for his ducks and chickens. "Every square had to be used. Especially for me, I have to make it useful since there is a lot of competition."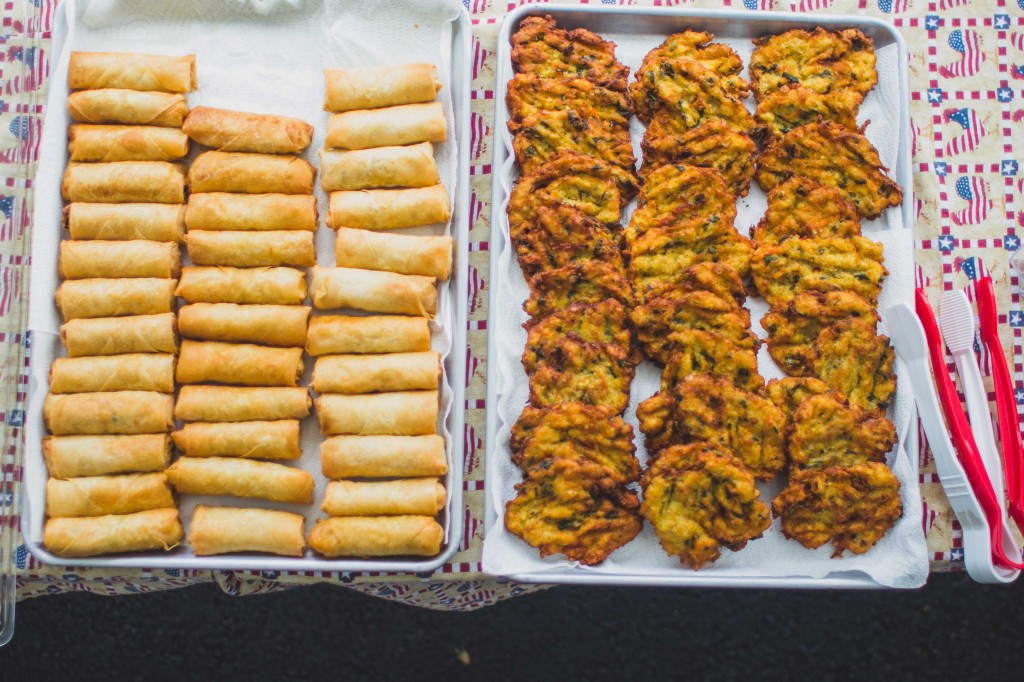 In May of this year, Roy received the opportunity to venture out on his own at a new farmer's market in College Park. Councilman Fazlul Kabir asked Roy to sell his food at the brand new Hollywood Farmers Market. There was one catch – the market was set to open just a month later. Though he had worried about having enough food to grow, Fazlul encouraged him to plant what we could. "I bought some plants and put them in the ground, and we did it – boom, boom, boom!" He started with lettuce and spicy green mix, before adding other produce and food to his repertoire, including spring rolls, green smoothies and vegetable fritters. After the first month, much of his nervousness turned into eagerness, and now he looks forward to bringing his food to the market every Saturday morning. "Now everything is smooth and easy. You got everything coming."