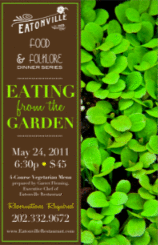 We love to see people enjoy the food we grow at the farm, and it's especially fun when a talented chef gets his hands on our produce and does amazing things with it.
That's what's going to happen on Tuesday, May 24, when Eatonville hosts its Food & Folklore dinner, with the theme "Eating from the Garden" and featuring produce from ECO City Farms.
Now, Executive Chef Garret Fleming actually features our produce on the menu at Eatonville on a regular basis. We were jazzed to have him and his staff visit the farm a few weeks back and graze along the rows in the hoophouses, really understanding where the food we bring to his kitchen each week started its journey. But "Eating from the Garden" is going to be a special meal and Chef Garret is going all out. Check out the menu here. And make plans to join us.
In addition to hearing a little about ECO City Farms, you'll hear guest "folklorist" Oren Molovinsky, a restaurateur who has done amazing work connecting DC-area farms and restaurants. Plus you'll enjoy a garden-inspired cocktail to go with the theme.