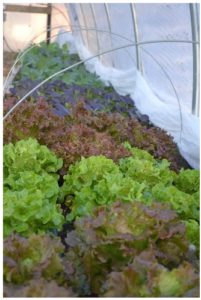 Winter 2017-18 Farm Share/CSA
Thank you to all of our loyal members who have supported ECO through the years!
The Winter CSA is now full. If you are interested in being placed on the wait list or in the CSA program in general, please email info@ecocityfarms.org with the subject CSA 2017-18.
Dates: Our 2017-18 Farm Share/CSA will begin on November 1, 2017 and extend to March 31, 2018.  A weekly share will be available for 20 of these 23 weeks, excluding the week of Thanksgiving, Christmas and New Years, 2018.
Cost: The price is $22 a week, for a total of $440.
You will be able to select some of your weekly veggies, you must bring your bag with you weekly, and the pick up site is your favorite local year-round Farmers Market in Riverdale Park, Thursdays from 3-7 PM.
You can now pay for your share via PayPal. Members that choose to use PayPal must pay the additional fees for this service.
If you are paying for half the share at this time, the fees are $6.68. The total to send is $226.68.
If you are paying the full amount, the fess are $13.06. The total to send is $453.06.
To make your payment: Login into your PayPal account and under the "Tools" tab, select "Send Money". Then select "Pay for Goods and Services". The email address for ECO's PayPal account is ecoinc@me.com. Enter either amount indicated above add your name in the note.
ABOUT OUR PRODUCE
We grow sustainably using only beyond organic, chemical-free Certified Naturally Grown processes at our two urban farms in Edmonston and Bladensburg, Md.
How Does a Farm Share Work?
Members sign up and pay for the season ahead of time, (or in two equal payments in October and January) and pick up up their share of produce each week at the Riverdale Farmers Market. Read more about the benefits and purposes of ECO's farm shares here.