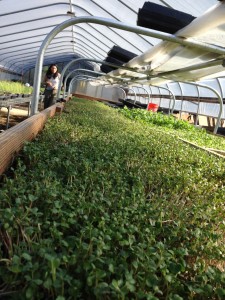 ECO's Microgreens Project: With funding from a Maryland Department of Agriculture Specialty Crop Block Grant, ECO City Farms set out to develop a microgreens growing system that would work in small settings, such as urban farms or for farmers looking to create additional crops and sources of revenue to supplement their other growing operations. Over the course of two years, we researched microgreen operations around the country, tested seeds and growing media, and experimented with growing structures. We developed a growing system in a large hoophouse which could be replicated by other farmers who want to supplement their growing operation.
Are You a Farmer? Learn how to grow microgreens on your farm and supplement your crop production income from ECO's best practices from our Guidelines for Growing Microgreens document. Click the link for the ECO Microgreens Budgeting Tool.
How to Buy Our Microgreens: ECO sells its microgreens at farmers markets and wholesale through local distributor, Keany Produce. We grow buckwheat shoots, pea shoots, radish and cress microgreens. For more information about buying our microgreens, contact us at info@ecocityfarms.org or call 301/288-1125.