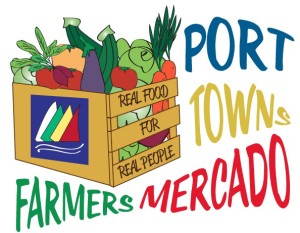 About the Port Towns Farmers Mercado:
The Port Towns Farmers Mercado is a weekly people's marketplace with a multicultural flavor. It is located in the parking lot of Three Brothers Italian Restaurant at 4521 Kenilworth Avenue, Bladensburg, MD 20710–a mixed commercial and residential area at the border of the Prince George's County Port Towns of Edmonston and Bladensburg. The area was officially designated a food desert by the USDA Food Atlas in 2014. The mercado makes healthy, locally grown and produced food available to residents who otherwise have little access to fresh food. In 2017, it will operate every Saturday from June 3 to September 2 from 10:00 to 1:00. ECO City Farms, an urban farm in Edmonston and Bladensburg, anchors and manages the mercado.
The mercado will serve our very diverse mix of local customers, whose roots extend from the US South to Mexico, Central and South America, the Caribbean, Europe and across the African continent. Together with community groups and local municipalities, ECO City Farms is creating a market that reflects and highlights the character of the community. It will offer foods that are culturally appropriate to local tastes and palates. It will feature music, cooking demonstrations, food and nutrition education, community resource tables and activities for children and youth throughout the season.
Customer Base:
The customer base for the mercado is especially diverse, including long-time residents and newcomers from across the nation and the globe; some with a history of eating fresh and healthy food, and others for whom including vegetables in their diet is new. For many of the mercado clientele, the price of food matters, and the use of SNAP/EBT, MD WIC and Farmers' Market Nutrition Program benefits is common.
Vendors:
The mercado seeks healthy food vendors who are able to navigate across a diversity of cultures and eating habits, help customers understand how to best use and consume their products, and work to make healthy food available, accessible, affordable, appropriate, acceptable and attractive. See our vendor information page for application and market rules.
Customer Financial Incentives:
The mercado will offer SNAP/EBT, MD WIC and Farmers' Market Nutrition Program benefits and other payment options to enhance sales. The local WIC clinic will be regularly present to distribute Farmers Market Nutrition Program vouchers, which will attract clients to the mercado and generate sales from WIC customers. ECO City Farms is spearheading a fundraising campaign for double/matching dollars for the 2016 season that will allow low income and senior citizen customers leverage their existing food benefits and double their spending.
Community Partnership:
The creation of this market is the result of a community partnership involving ECO City Farms, the four Port Towns of Bladensburg, Edmonston, Colmar Manor and Cottage City, the Port Towns Community Health Partnership, the Food Equity Council, and many others, all of whom work together to promote healthy eating and active living, food-related micro-business development, and green community activities throughout the area.