Local, Naturally-grown Vegetables and Herbs
Available All Winter!
Join the Community-Supported Agriculture program offered by ECO City Farms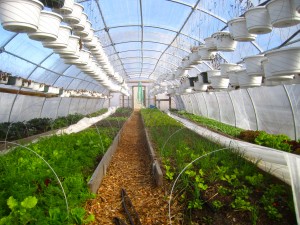 ECO City Farms' Community-Supported Agriculture (CSA) is a farm share program that links consumers and local farmers together to share the bounty and risks inherent in farming.  The consumer provides the funds needed to farm upfront, and in return, can expect the farmers to supply a bag of fresh produce each week.
ECO City Farms grows vegetables and produce during the winter under greenhouse type structures called hoophouses, and offer a Winter CSA. We are proud of our status as a Certified Naturally Grown farm. The Winter CSA will run from December 2013 to May 2014.  The pickup will be at the Town Center Market in Riverdale Park.
This is a 23-week period, of which you pay for 18 weeks.  This means the farmers have the flexibility to cancel up to 5 pickups within this timeframe in case of issues with the weather, pests, and holidays.  And you will still receive the full amount of produce you paid for.  The bags of produce are valued at $15.
What's In Our Bag?!
A local CSA/farm share reflects what grows well during the season in that region.  From our CSA you can expect: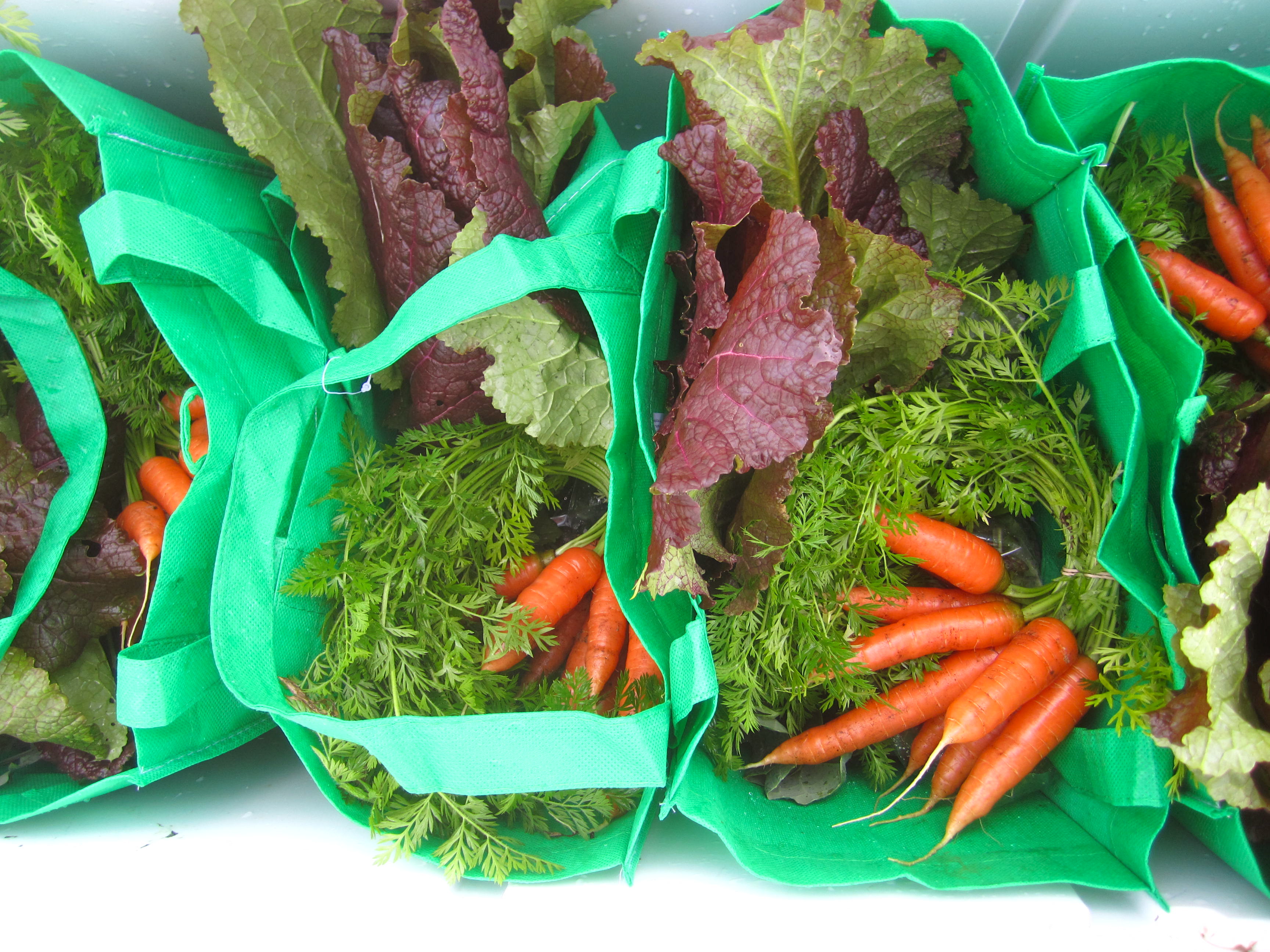 Salad Greens: Lettuces, Baby Spinach, Baby Arugula, Spicy Mix, Mache/Corn Salad
Collards
Kales
Radishes: Cherry Belle and French Breakfast and Purple
Rainbow Swiss Chard
Lettuce
Scallions
Baby Carrots
Beets: Golden and Candy Stripe
Pea Shoots
Chinese Cabbage
Bok Choi
Turnips
Dandelion Greens
Kohlrabi
Mustard Greens
Herbs: Parsley, Dill, Cilantro
COSTS AND POLICIES
Standard Price- $280  You can pay it all upfront, or half by the 1st share, and the other half by the end of January.
Discounted Price- $180 You must show documentation that you qualify for government assistance to register at this price.  You can pay by the month, which is $40.
| | |
| --- | --- |
| Number of People in Household | Combined Income, Less than… |
| 1 | $20,665 |
| 2 | $27,991 |
| 3 | $35,317 |
| 4 | $42,643 |
| 5 | $49,969 |
| 6 | $57,295 |
| 7 | $64,621 |
| 8 | $71,947 |
Picking Up the Produce
Pickup is on Thursdays at the Town Center Market, located at 4705 Queensbury Road, Riverdale Park, MD 20737, from 4-7pm
We will e-mail you a weekly newsletter, which will include any notices of cancelling the next pickup.
You'll receive 2 reusable bags.  Bring them when you pickup your share so we can exchange them.  If you forget your bag, we can provide a new one for a $3 fee.
No-Show Policy
If you can't pickup your share and don't make arrangements with us ahead of time, we will donate the share to DC Central Kitchen.  DCCK turns gleaned food into meals for thousands of at-risk individuals every year, while offering nationally-recognized culinary job training to once homeless and hungry adults.
We are Certified Naturally Grown.  This means we pledge:
To never use harmful synthetic chemicals
To buy organic seed whenever possible
To never use Genetically-Modified seeds
All the produce is mainly grown by recycling (composting) food "waste" to feed our soil and plants.
We grow year-round, powered by our hands and other renewable resources (compost, solar, wind, shallow geothermal).
Weekly Newsletter
Each week, we will e-mail you a newsletter that includes a list of whats in the bag, recipes, reflections from different voices of the farm, notices about the CSA, news articles and videos, and more.
How do I sign up? (Lottery and CSA Registration Form)
We only have 23 shares available and priority is given to previous members.  We always have more demand than food available.  Therefore, if you haven't been a previous member, we will put your name in the lottery.  If you don't get chosen, we will put you on the waiting list.  Every season, we tend to add 1-3 more members as the season progresses.  We are always working to expand the farm's ability to provide produce, but keep in mind, we are a small half-acre urban farm.  Below is the registration form.  Fill it out, but don't send money if you are put into the lottery.  We will close the registration on November 28, 2013.
Check one:
_____ Regular Share
_____ Reduced-fare Share
I understand that farming is unpredictable and that weather and pests may affect the size and variety of my share.  I trust the farmers to do their best.
Name: ________________________________
Signature: ________________________________
E-mail: ________________________________
Phone: ________________________________
Date:________________________________
Address:________________________________
We accept cash, checks, MD WIC checks and Paypal (ecocityfarms.org).  Send to:
ECO City Farms
6010 Taylor Road
Riverdale Park, MD 20737
For more information, contact Christian at:  christian@ecocityfarms.org