ECO City Farms Summer CSA 2013
Due to high demand, our Summer CSA is already full!
We are an educational, non-profit located inside the Capital Beltway in Prince George's County, MD serving as a prototype for sustainable local farming.  Your purchase of our produce supports our mission to cultivate healthier communities by growing more food, farms, and farmers.
ECO City Farms' Community-Supported Agriculture (CSA) program links consumers and local farmers together to share the bounty and risks inherent in farming.  The consumer provides the funds needed to the farmer upfront at the beginning of the season, and in return, can expect the farmer to supply a bag of fresh produce weekly.
Date Range and Pickup
The program runs from June 20 to November 14, every Thursday.
Pickup is usually at the Riverdale Farmers' Market at the Queensbury Road MARC Train Station, however we are working on doing a drop-off location in the Port Towns.
You will pay for 18 weeks, however the program runs for 22 weeks.  This means the farm has the option to cancel 4 weeks of pickups in case bad weather, disease or pest pressure, or vacations arise.  You will still receive the full 18 weeks worth of produce you paid for.
So what's in a Summer CSA bag?! 
Below is a list of what you will receive throughout the summer season:
Summer Staples:
Tomatoes: Red/Heirloom/Cherry Tomatoes
Squash: Zucchini/Yellow
Eggplant: Italian/Asian
Beans: Green/Yellow/Purple
Salad Greens:
Spring Mix
Baby Spinach
Spicy Salad Mix
Baby Arugula
Root Vegetables:
Carrots: Baby/Purple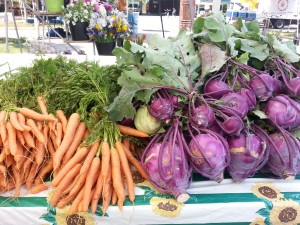 Baby Beets: Candy Stripe/Gold
Salad Turnips
Radishes: Cherry/French Breakfast
Sweet Potatoes
Potatoes
Herbs and More:
Scallions (Spring Onions)
Rainbow Chard
Collard Greens
Garlic
Dandelion Greens
Broccoli Raab
Mustard Greens
Lettuce: Red/Green
Herbs: Italian Basil, Thai Basil, Sage, Parsley, Cilantro, Dill
How Much Is It?
Bags are valued at $15 per week.  We started this program with bags valued at $25 per week, but that was too many vegetables for many folks!  Then we dropped it to $20 per week, but that still sounded like a lot for folks.  So now we are doing $15 per week, which is a good introduction into a local farm's bounty for the price of a couple cups of coffee, and we can offer more shares to more people because we've reduced the size of them.
We have 2 types of shares you can sign up for:
            Regular Price:             $280
You may pay all upfront, or half by the first share's pickup, and the other half by the end of August.
There is an extra $10 added to the final cost to offset the discount offered to "Reduced Price" members.
            Reduced Price:           $180
You may pay $40 during the first pickup of each month.
Only those who qualify for government assistance (WIC, EBT, Disability), or whose income is less than the amount below, can sign up for this option.
| | |
| --- | --- |
| Number of People in Household | Combined Income, Less than… |
| 1 | $20,665 |
| 2 | $27,991 |
| 3 | $35,317 |
| 4 | $42,643 |
| 5 | $49,969 |
| 6 | $57,295 |
| 7 | $64,621 |
| 8 | $71,947 |
We accept: Check (written to ECO City Farms), Cash, or WIC.
Weekly Newsletter
We will e-mail you a weekly newsletter, which will include any notices if pickups are cancelled.  Also in the newsletter will be recipes, reflections from different voices of the farm, news, and more.
You'll receive two reusable bags.  Bring them when you pickup your share so we can exchange them.  If you forget your bag, we can provide a new one for a $3 fee.
No-Show Policy
If you can't pickup your share and don't  make arrangements with us ahead of time, we will donate the share to DC Central Kitchen.  DCCK turns gleaned  food into meals for thousands of at-risk individuals every year, while offering nationally-recognized culinary job training to once homeless and hungry adults.
We are Certified Naturally Grown
This means we pledge:
To never use harmful synthetic chemicals
To buy organic seed whenever possible
To never use Genetically-Modified seeds
All our produce is grown using recycled food "waste" into compost to feed our soil and plants.
How to Sign Up – Due to high demand, our Summer CSA is already full!
CSA Registration Form
Check one:
_____ Regular Share                         _____ Reduced Price Share
I understand that farming is unpredictable and that weather and pests may affect the size and variety of my share.  I trust the farmers to do their best.
Name: ________________________________     Signature:________________________________
E-mail:  ________________________________   Phone: ____________________________
Date:  ________________________________       Town/City:________________________________
Pickup Location Preference:
___ Riverdale Farmers Market                          ___Port Towns (Tell Us Where: _________)
For questions, comments, suggestions, email ECO Farmer Christian at: Christian@ecocityfarms.org