Rooting DC
It's the 10 year anniversary of Rooting DC! Register today.
Where: Wilson High School 3950 Chesapeake St NW, Washington, DC 20016
When: Saturday, February 18, 2017 from 9am-4:30pm 
What: 60 workshop sessions from pest identification to herbalism to food politics, plus 60 local nonprofits, businesses, and government agencies at the Information Fair!
Rooting DC relies on community support to organize a successful event that includes over 1,200 attendees and more than 60 local nonprofits and urban farm collectives. Click here for more information on volunteer opportunities at the event.
Open Farm Volunteer Hours
9:00a-12:00p every first through fourth Saturdays of the month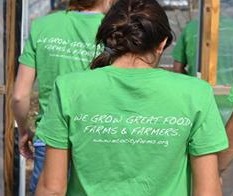 Come one, come all and get your hands dirty and help us run our farms!
Work is from  9am – 12:00 at each location. Please plan to be there for the whole time period. Farm tour follows at 12:15 pm. No need to rsvp if you are coming, unless you have more than three people coming with  you. Read more info on volunteering and what to expect.
Contact our volunteer coordinator, Kayla Agonoy, for more information: kayla@ecocityfarms.org. Find out how to get to our farms: maps and directions
Volunteer days will only be at the Bladensburg Farm. There will be no volunteer day  on the fifth Saturday of the month. Volunteer days will return on Saturday, March 4th 2017.