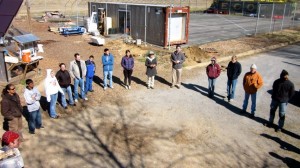 ECO City Farms serves the community and without the incredible help of volunteers like you, we could not exist.  In order for everyone to get the most out of the volunteer experience, we need to make sure that there's a structure, and some shape to your experience — like a hoop house gives shape to our farming.
Please read through these questions and answers before you come out to volunteer, and please contact the Volunteer Coordinator Kayla Agonoy at kayla@ecocityfarms.org with any questions, clarifications, or concerns.
The last Volunteer Day for the 2017 season is Saturday, November 18. Volunteer days will resume early March 2018.
FREQUENTLY ASKED QUESTIONS
How do I sign-up to volunteer?
It is not required that you sign-up in order to volunteer. You will sign-in when you arrive on-site. You can always let us know you plan on volunteering by contacting the volunteer coordinator, Kayla Agonoy at kayla@ecocityfarms.org. If you are bringing a group of more than 3 people, you must let us know ahead of time, please refer to the question below.
Which farm can I volunteer at?
For our 2017 volunteer season we will only be accepting volunteers at the Bladensburg Farm on the 1st-4th Saturdays of the month.
There will be no volunteer day  on the 5th Saturday of the month unless otherwise stated.
The farm is open for volunteering from March through November. Volunteer days will return on Saturday, March 4th 2017.
However, please check our Facebook page just in case we have cancellations.
Where are the farms? Visit our Directions & Parking page for directions to the Bladensburg Farm. The address to the Bladensburg Farm is 6100 Emerson Street Bladensburg, MD 20710. Visitors can park along Emerson Street.
What time is open volunteer hours? Volunteer day starts at 9am and runs until 12pm.
Can I come and go during volunteer hours as I please?  Please plan to stay and contribute for the entire three hours.  Arrive no later than 9:00 and do not plan to leave any earlier than the scheduled end time.
Do volunteer hours happen rain or shine?  Not necessarily.  Depending on the season, the projected weather, and what work needs to be done, volunteer hours might be cancelled due to nasty weather.  It might be very last-minute, and a message will be sent out to volunteers and posted on the website or Facebook as soon as the decision is made.  If you're unsure if the volunteer hours will be cancelled, feel free to contact the volunteer coordinator, Kayla Agonoy at kayla@ecocityfarms.org.
I have no farming experience.  Can I still come to volunteer? Of course!  ECO City Farms is an educational farm, and the farm staff works hard to ensure that each volunteer is placed with a project that best suited his or her skill level.  Additionally, the staff and experienced volunteers will work with newer and less-experienced volunteers in order to successfully accomplish a task. And, all volunteers are encouraged to work at their strength level and take breaks when needed.
My organization would like to come volunteer.  What is the process?  With a group that has three or more participants, you must RSVP to the volunteer coordinator (kayla@ecocityfarms.org) at least a week before the Saturday you intend on volunteering.  It would be beneficial to schedule to volunteer well in advance: the volunteer coordinator and the farm managers reserve the right to decline a group volunteering if there are already groups scheduled for the chosen date.  We do not accept groups larger than eight members without specifically scheduling a volunteer event.
How many volunteers can come each volunteer session? We cannot appropriately plan on an exact number of volunteers.  However, in order to control our numbers, we do not typically accept groups of larger than eight members.  Individuals and groups fewer than three can attend as they please.
Can kids come to volunteer? Ideally, no.  If you do bring your child under 16 to our volunteer hours, a parent or guardian must be with the young person at all times.  The farm is a dynamic environment, and young people under 16 can both get hurt and hurt others (people and plants alike) if not appropriately supervised.
Does volunteering cost anything? Nope, but we do accept small donations on-site.
Do I get money or food from volunteering? No. We recommend bringing your own snack to enjoy during any break time. Sometimes there are market leftovers that will be given away to volunteers, but that is neither expected nor a regular occurrence.
What do I wear or bring? Be sure to wear comfortable clothes and closed-toed shoes you don't mind getting dirty. Bring work or garden gloves if you have them, and dress according to the weather. A hat with shade is really useful in warm months. In cooler months, wear layers as you tend to warm up while working and will want to take something off. Also, bring a water bottle, any snacks you need, and sunscreen or insect repellent as needed.
Does ECO City Farms have bees? Yes, ECO City Farms have a few on-farm beehives. We will inform volunteers of the location of any bee colonies. Most bees will not sting if left alone. Bee stings can cause a medical emergency if one is allergic to them. Volunteers groups should be aware of any one in their group who may have this problem and be prepared to respond appropriately.