What's New? Farm Building!
Our staff are hard at work on building projects for both of our farms. At the Bladensburg farm, we have completed some essential water line installation, ground preparation and placed a new container on the site for a secondary kitchen and food prep area. We are currently constructing the roof between the tool shed/kitchen shed complex. We've also created  temporary kitchen setup using our new trailer and tent space for the Summer Youth Program Students. All this, and creating more beds for healthy food growing at the farm.
To view a gallery of photos, click here.
Farm Planning
With the recent passage of the Prince George's County text amendment allowing urban farming in residential areas, ECO is now going full steam ahead in the building of its farm in Bladensburg. We've recently completed an initial site plan for physical elements of the farm and finalized crop planning which will allow local residents access to fresh food from the farm through a planned market stand and farm share. Critical design services were provided by The Neighborhood Design Center.
Additional components include worm composting area, two hoophouses, a nursery, a produce cleaning station, and an outdoor kitchen/community gathering space.  Construction of these amenities is made possible through a grant from the Prince George's County Redevelopment Authority.
Volunteering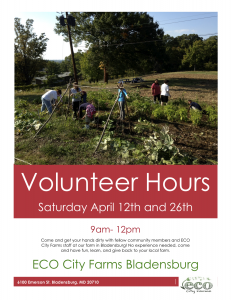 On the 2nd and 4th Saturday of the month, the farm is open to volunteering.  Show up ready to work and connect with others around food.
For more details, visit our Volunteering page. Check out our Volunteer Flyer at right!
Farm Stand!
We have fresh locally grown produce every Satuday morning from 9-12 at our Bladensburg farm stand at 6100 Emerson Street, Bladensburg, MD.  Stand open from June to October.  You can also pick up a Eat Local Farm Share there.