Sustainability in farming often involves the interdependence of various species of plants and animals.  We strive to develop a diversity of farm products that help cultivate healthy production and a thriving interdependent farm ecosystem.
Small-Scale Poultry
The small flock of laying duck hens at ECO City Farms helps us model biodiversity and the full cycle of organic matter in sustainable food systems. The ducks are fed grain and allowed to peck through the compost gathered as we clear out vegetable beds. In turn, we compost the hay and litter from their coop (which is tucked underneath our solar and wind array) to return nutrients to the soil for growing more food.
Beekeeping & Honey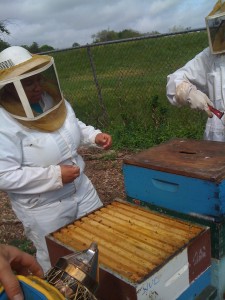 Our beehives provide the plants in on our farm and the surrounding environment with critical pollinators. We harvest raw honey in the spring from one of our four hives and look forward to another harvest in the late summer.