Our Flagship Farm in Edmonston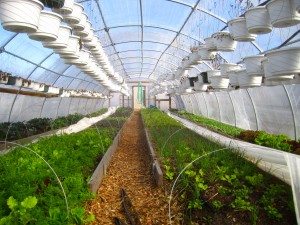 Our farm in Edmonston is the anchor of ECO City Farms' many programs. We grow vegetables, raise ducks for eggs and keep bees on our one-acre farm that currently includes five hoop houses, located at 4913 Crittenden Street, Edmonston, Maryland 20781.
How We Grow
We choose to go beyond organic farming. Our produce is grown without any chemical fertilizers nor do we use any petro-based or non-organic treatments, herbicides, pesticides, or fungicides of any kind.  We practice no-till farming and only purchase non-GMO, organic seeds from small seed producers.  Our philosophy is that a healthy (alive) soil produces healthy plants that are resilient to pest and disease.  We borrow from the principles of permaculture and biodynamic agriculture, but we aren't really about the labels, just growing the healthiest food possible without sacrificing our environment. Our use of low-cost hoop houses help us control growing conditions, giving us the opportunity to grow year-round.  This approach to growing is not reliant on purchased farm inputs such as nutrients or pesticides, and has shown, in other successful urban farms, to provide an abundant and safe supply of high quality and high value products.
Composting and Vermiculture
Composting and vermiculture form the foundation of our farm. We divert organic matter from the waste stream and turn it into soil additives that support the production of a nutrient-rich vegetables, fruit and herbs.
Intensive Food Production
With under one acre of available land, we aim to maximize productivity on our farm by utilizing every available space and growing food all year long.  Utilizing simple hoop houses allows us to intensively produce a high volume of food in a very small space. We cultivate dozens of varieties of greens, lettuces, herbs, root vegetables, shoots and other crops. Our worms, honeybees, and ducks are integral parts of our farm ecosystem. The provide valuable and diverse farm products  — worm castings for soil fertility, honey, and eggs.

People Power
People power is what makes the farm possible and is the key ingredient to community farming.  Working hands replace tractors and expertise and ideas come from engaged minds of all ages and backgrounds. Volunteers contribute hours of effort, alongside our small and dedicated staff.

Renewable Energy Systems
We use a 1kw solar PV system to power some of our onsite farm needs and use low-tech solutions whenever possible.  Our hoop houses also harness the power of the sun with their greenhouse effect, which warms throughout the winter.

Stewardship
Urban agriculture is about feeding people and nurturing communities, but it is also about regeneration and healing marginalized landscapes. Our commitment to protect and restore the environment is evident in all facets of our works; reusing materials and applying permaculture methods to build our hoophouses and FoodShed kitchens, and practiving gray water recycling, energy conservation and composting. As part of our master plan, we are implementing strategies for healing our soil, cleaning our water and promoting biodiversity as important roles our farm plays in the larger urban ecosystem.
Urban Agriculture Research and Development
If we are to transition to a local food system, we need constant development of methods and strategies for growing the most abundant and healthiest food possible in small urban parcels.  ECO City farms is dedicated to regenerating urban spaces into productive food oasis's.  We are currently developing and applying many experimental strategies for urban agriculture including innovative composting methods, soil and nutrient management for small spaces, hoophouse design and passive solar, specialty crops for urban settings, modular processing kitchens for value added products and more.